Why isn't the media demanding Keith Ellison PUBLICLY renounce his RACIST ANTI-SEMITIC past?
Keith Ellison's bid to become the DNC's next chairman is on the rocks given the racist and anti-Semitic past comments of the Muslim U.S. House Rep., and yet the media isn't demanding that he loudly and publicly denounce his past statements like they did with Trump! I wonder why!!
The Washington Post describes why he's having such a tough time:
Rep. Keith Ellison (D-Minn.) is now engaged in a very public battle for an internal Democratic job — a battle that risks undermining the reason some Democrats want him to lead the party in the first place.

Ellison really wants to be the Democratic National Committee's next chairman, and he's got the support of powerful Democrats like Sen. Bernie Sanders (I-Vt.) and incoming Senate Minority Leader Chuck Schumer (D-N.Y.) for the job. He's a progressive black man from the Midwest who, a decade ago, became our nation's first Muslim member of Congress. Today, he would present a striking contrast to President-elect Donald Trump.

But Ellison is also a lightning rod, thanks to a wide range of comments he has made over the decades — comparing George W. Bush's rise to Adolf Hitler's, defending the controversial leader of the Nation of Islam from accusations of anti-Semitism and suggesting the U.S. create a black state.
Just yesterday a major DNC donor called him anti-Semitic: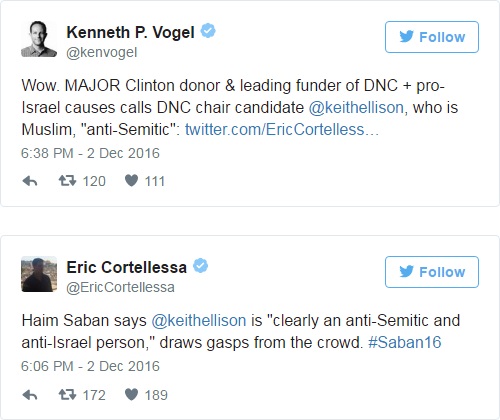 … What an "awesome" run for the Democratic National Committee! First Debbie Wasserman Schultz quits the chair because of Wikileaks emails showing she cheated to help Hillary against Bernie, then their next chair Donna Brazile is found to have leaked CNN debate questions to Hillary. NOW their next recruit is shown to be a racist anti-Semite! … Good luck with that, Dems.
http://therightscoop.com/isnt-media-demanding-keith-ellison-publicly-renounce-racist-anti-semitic-past/