281st round: Obama plays at least 46 full days golf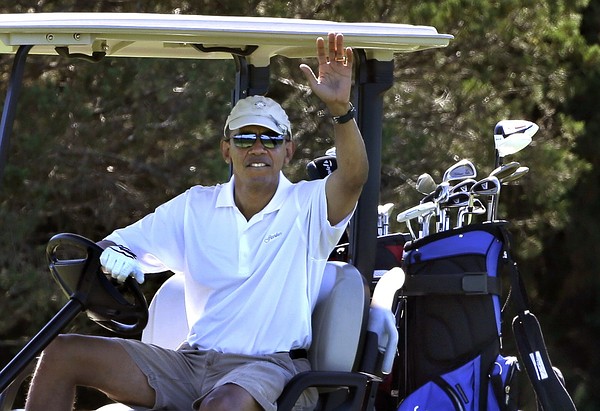 President Obama, fresh from his whirlwind spring break trip to [Communist] Cuba and Argentina, hit the links for some R&R Saturday, playing his 281st round since becoming president. He was at Andrews for over five hours.
That is slightly more than three quarters of a year of days playing the presidential sport for Obama. The president typically plays for at least four hours, sometimes longer, putting his time at over 1,100 hours golfing, or at least 46 full 24-hour days.
According to the White House press pool, he is at Joint Base Andrews playing with regulars Sam Kass, the former White House chef, long-time friend Greg Orme, and aides Marvin Nicholson and Joe Paulsen. It is a beautiful day in Washington, and in the mid-50s at Andrews.
Secrets confirmed its count with CBS White House Correspondent Mark Knoller, who considered by even White House staffers as the current historian of the presidency and official counter of events and outings. He also has a very popular Twitter feed with 183,000 followers.
Pres Obama at @AndrewsAirForce for a round of golf. 52° and sunny.

— Mark Knoller (@markknoller) March 26, 2016
The press pool hardly ever sees the president golf and on Saturday peeled off the motorcade and is spending the day at a nearby Burger King.
http://www.washingtonexaminer.com/281st-round-obama-plays-at-least-46-full-days-golf/article/2586906