Anti-Israel Hillary Clinton teaming up with pro-Iranian group for fundraiser… at Twitter exec's home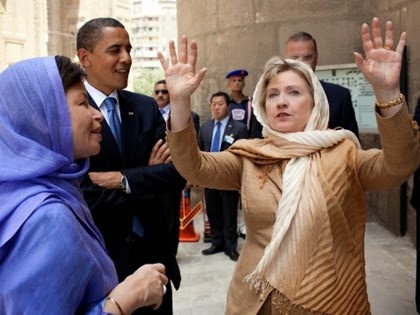 In case you missed it, over the weekend, Twitter suspended the account of prominent conservative Robert Stacy McCain. This marks the second time in recent weeks that Twitter has suspended the account of a prominent conservative in addition to several other cases of prominent conservatives having their blue verification buttons removed.
Also over the weekend, Washington Free Beacon's Adam Kredo reported that Democratic Presidential candidate Hillary Clinton is teaming up with a pro-Iranian group for a fundraiser at the home of a Twitter executive.
Clinton is scheduled to travel to Silicon Valley this weekend for three fundraisers with wealthy tech moguls, many of which have expressed skepticism about the candidate.

Clinton will participate in a Menlo Park fundraiser on Sunday hosted by Twitter executive Omid Kordestani and his wife Gisel Hiscock, as well as National Iranian American Council (NIAC) board member Lily Sarafan and Noosheen Hashemi, who serves on the board of the pro-Iran advocacy group Ploughshares, a major funder of pro-Iran efforts.

NIAC, an advocacy group formed by Iranian-Americans to work against the pro-Israel community, has long been accused of lobbying on Iran's behalf against sanctions and other measures that could harm the Islamic Republic's interest.

Ploughshares, which partners with NIAC, is joining the White House in efforts to pressure the Jewish community and others to back the recently implemented Iran nuclear agreement, the Free Beacon reported.

The organization has also spent millions to influence coverage of Iran and protect the Obama administration's diplomatic relations with Iran.

NIAC has emerged a key pro-Iran player in the United States, working with the White House and liberal groups to spin the deal as a positive for U.S. national security.

The group is currently leading the charge to block recent counter-terrorism legislation that would require individuals who have travelled to Iran to obtain a visa before entering the United States.

Congress passed the legislation in response to recent disclosures exposing flaws in the U.S. visa waiver program, which eases travel to the U.S. with 38 partner countries.
Lawmakers said the legislation is meant to ensure that individuals with potential ties to terrorism will be detected before entering the United States.

The White House has threatened to waive these new anti-terror provisions pertaining to Iran in order to preserve diplomatic relations with the country. Secretary of State John Kerry wrote to Iranian leaders in January promising to block the new law.

NIAC is now spearheading an advocacy campaign aimed at petitioning lawmakers to reverse the counter-terror law.
This is what Hillary refers to as being 'tough' on Iran. Anyone still foolish enough to think she's pro-Israel? What could go wrong?
http://israelmatzav.blogspot.com/2016/02/pro-israel-hillary-clinton-teaming-up.html