Religion of Peace: Second Japanese hostage beheaded by ISIS Muslim terrorists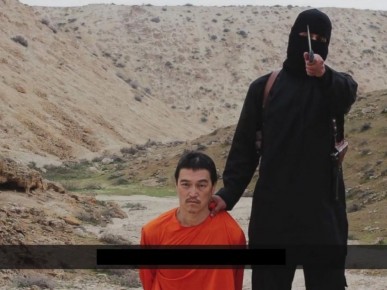 An online video released Saturday appears to show Islamic State executing Japanese journalist Kenji Goto — the apparent end to a frantic past couple of days in which Japan officials tried negotiating to save Goto's life.
The video shows a [Muslim terrorist butcher] with a British accent beheading Goto, similar to other, recent execution videos released by the [Mulsim terrorist] group.
The hostage drama began last week after Islamic State threatened to kill Goto and fellow Japanese hostage Haruna Yukawa in 72 hours unless Japan paid $200 million.
A purported [ISIS terrorist] message released Jan. 24 claimed Yukawa had been killed.
[ISIS] later demanded the release of Sajida al-Rishawi, who is on death row in Jordan for her role in a 2005 al Qaeda attack on hotels in Amman that killed 60 people.
Within hours, the [ISIS] said it instead wanted al-Rishawi, 44, released in exchange for the life of hostage Lt. Muath al-Kaseasbeh, a Jordanian fighter pilot.
The video released Saturday, via [Muslim] websites, bore the symbols of previous Islamic State group videos in which three American separately appear to have been executed.
The White House's National Security Council issued a statement minutes after the release of the video stating intelligence officials are, as with similar recent videos, trying to verify its authenticity.
"We have seen the video," said council spokeswoman Bernadette Meehan. "We are working to confirm its authenticity. The United States strongly condemns ISIL's actions and we call for the immediate release of all remaining hostages."
Late Friday, after the deadline for a deal had passed, Japan's deputy foreign minister, Yasuhide Nakayama, said that efforts to free Goto were "in a state of deadlock."
The 26-year-old al Kaseasbeh's plane went down in December over an Islamic State-controlled area of northeastern Syria.
He is the first foreign pilot to be captured by the group since a U.S.-led military coalition began carrying out airstrikes … in September. Jordan is part of the coalition.
Kaseasbeh's family said late Friday there has been no word about the 26-year-old pilot's fate.
Goto was captured in October, after he traveled to Syria to try to win the release of Yukawa.
Jordan and Japan are reportedly conducting indirect negotiations with [ISIS] through Iraqi tribal leaders.
http://www.foxnews.com/world/2015/01/31/video-isis-beheads-japanese-journalist/