Tennessee terrorist was armed to the teeth and ready for jihad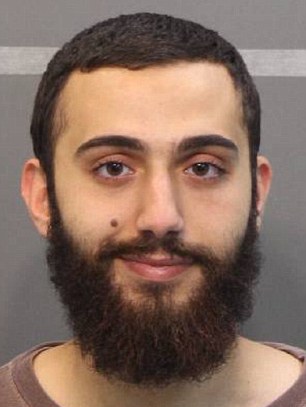 The suspected Tennessee terrorist who killed four Marines was heavily armed and bent on waging war against America, according to local, state and federal authorities who spoke Friday, a day after the shocking attack at a military facility in Chattanooga.
Mohammad Youssef Abdulazeez, 24, a Kuwaiti-born Chattanooga resident who was killed by police to end his rampage, used an AK-47 to gun down the unarmed Marines after crashing into a gate at the Navy Operations Support Center, according to Rep. Michael McCaul, R-Texas, the chairman of the House Homeland Security Committee. And the troubled gunman, who officials believe had become increasingly radicalized in recent months, wore an ammo vest with multiple rounds of ammunition, while carrying other weapons.
"Some of the weapons were purchased legally and some may not have been. We will examine that," FBI Special Agent in Charge Ed Reinhold said, speaking at a news conference in Chattanooga hours after McCaul gave his briefing.
In addition to the small arsenal Abdulazeez brought for his maniacal spree, authorities are investigating recent travels by the apparent Islamic radical, including a trip to Jordan in 2014 and another possible jaunt to Yemen.
Sources close to the investigation told Fox News authorities are trying to determine whether Abdulazeez had any contact with [other Muslim terrorists] during his seven-month stay in Jordan. Abdulazeez is believed to have traveled to the Middle East between April and November 2014.
Authorities continued to search Abdulazeez's computer Friday, but had not found an extensive online presence and had not uncovered evidence suggesting he was directly inspired by the Islamic State.
The FBI is investigating two blog posts written on Monday to determine if Abdulazeez was behind them, including one that proclaimed that life is "short and bitter" and urged readers to "submit to Allah," the Wall Street Journal reported.
The National Counterterrorism Center said it is still reviewing its data holdings and watch lists and have so far found no positive hits for Abdulazeez, though it emphasized the review is ongoing.
At approximately 10:50 a.m. Thursday, the gunman opened fire from his silver Mustang convertible at a military recruitment center in a strip mall east of downtown Chattanooga, where one Marine was wounded. Authorities said the shooter then drove 7 miles to a Navy Operations Support Center, crashing his car through a security gate before opening fire on four Marines, killing them. A police officer and sailor were also wounded.
http://www.foxnews.com/us/2015/07/17/trip-to-radicalization-authorities-scrutinize-chattanooga-shooter-visit-to/