100 Baltimore Cops Injured in Black Riots; Asian Shop Owner Nearly Set on Fire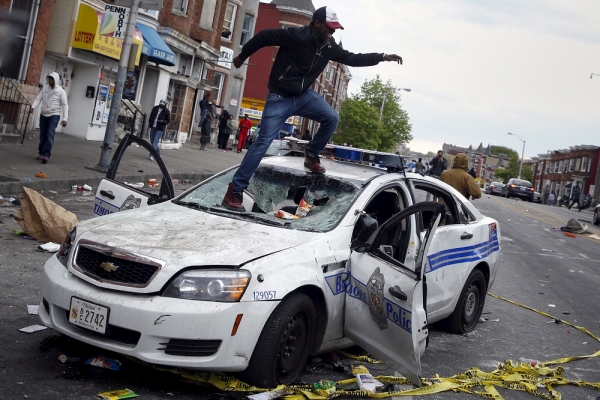 Nearly 100 Baltimore cops have been injured in the riots that began Monday following the funeral of Freddie Gray, the 25-year-old man who died of a spinal injury in police custody.
According to NBC News, Police Capt. Eric Kowalczyk said at a Thursday press conference that 98 officers were injured overall. Of those, 43 required emergency medical treatment at a hospital and 13 were injured so badly they had to take medical leave.
The captain didn't give details on specific injuries but did mention rocks, glass bottles, and other objects being thrown at officers.
"These weren't little pebbles being thrown," Kowalczyk said. "These were chunks of cement with serrated edges and glass embedded in them. That's what was being thrown at our officers."
He also said that 106 of 201 arrested at the riots were released after 48 hours because specific charges couldn't be filed. Police continue to review surveillance video for evidence that can be used to charge suspects.
A city-wide curfew from 10 p.m. to 5 a.m. was instituted by Mayor Stephanie Rawlings-Blake on Tuesday, and it will remain in place through the weekend, Police Commissioner Anthony Batts said Thursday night.
"I am extremely pleased and happy with the citizens of Baltimore," he added, noting that the last few nights had been calmer.
Police previously reported that Monday night's riots damaged at least 15 structures — including a CVS pharmacy the mayor personally encouraged to open. An estimated 100 vehicles were smashed and set on fire. The ATF has since posted a $10,000 reward for information on any suspects.
NPR reported Thursday that Asian businesses in predominantly African-American neighborhoods were specifically targeted for destruction during the riots.
In an interview with IJReview.com, Essam el Ghannam, the owner of Papa Palace pizza shop, said rioters doused him in lighter fluid and tried to set him on fire.
http://www.newsmax.com/TheWire/100-baltimore-cops-injured/2015/05/01/id/642009/