6 Best Freedom Caucus Smackdowns of GOP Leadership's RINOcare Lies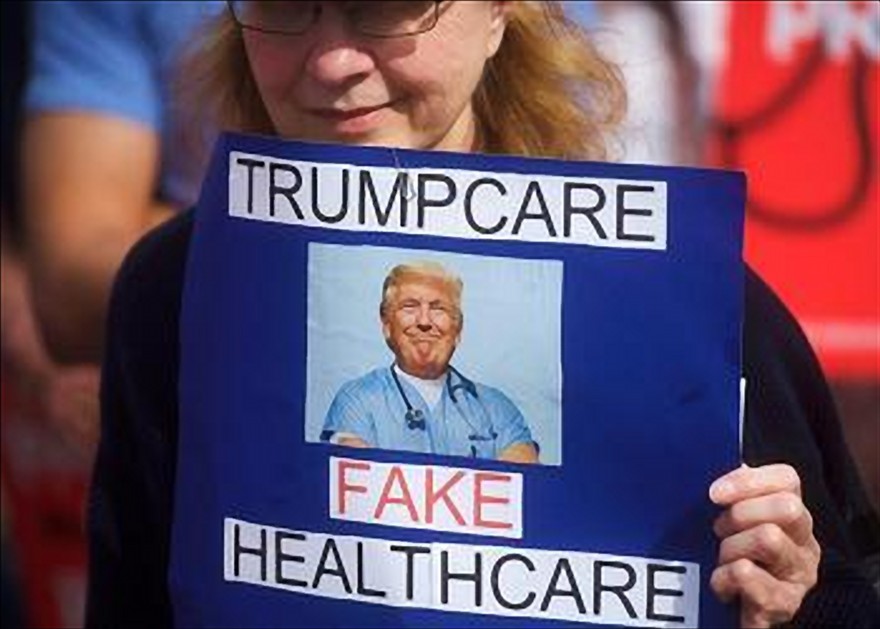 Fallout over Friday's withdrawal of RINOcare has led to renewed animosity among Capitol Hill-types for the House Freedom Caucus, with Republican lawmakers and establishment newsmakers hurling the same old slings and arrows at the group once again.
One of the more high profile accusations came from President Trump himself, who tweeted that the Freedom Caucus was alone in their responsibility for propping up Obamacare and continuing Planned Parenthood funding.
Democrats are smiling in D.C. that the Freedom Caucus, with the help of Club For Growth and Heritage, have saved Planned Parenthood & Ocare!

— Donald J. Trump (@realDonaldTrump) March 26, 2017
But a few of the Freedom Caucus members are not taking those allegations lying down. In the wake of this and other accusations, congressional conservatives doubled down by setting the record straight and pledging to keep their promises to their constituents.
Here are some of their responses:
1. Rep. Massie: Beware the bait-and-switch
In typical fashion, Rep. Thomas Massie (R-Ky.) wasted no time in responding to the president's allegations, reminding voters of the truth the Planned Parenthood funding provision in GOP leadership's bill.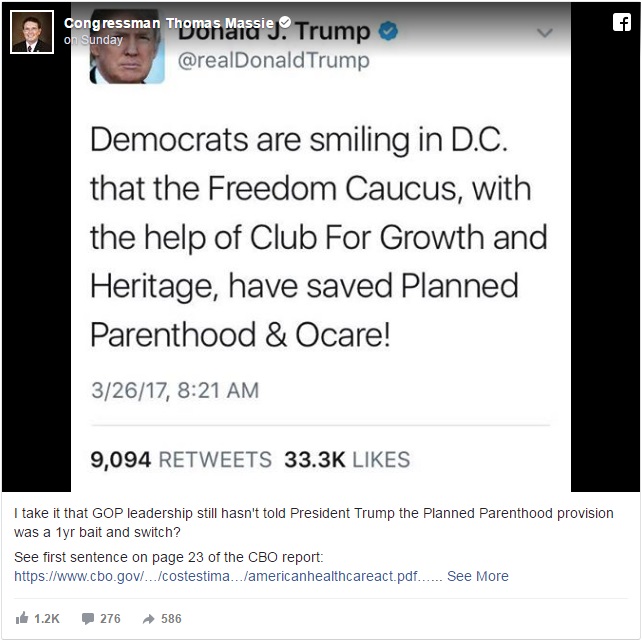 In a television appearance the same day, Massie also made it clear that by working with conservatives, House leadership ought to be more than able to get the votes necessary to pass a health care bill.
Rep. Thomas Massie, Freedom Caucus member, suggests Trump admin "can walk across the aisle & get to 218" if they want Obamacare replacement

— David Wright (@DavidWright_CNN) March 27, 2017
2. Rep. Amash: Setting the record straight on negotiations
In the final, tense hours leading up to the withdrawal of the bill, Republican leadership met with conservatives multiple times to find a way to get to "yes." The problem with this, as Rep. Justin Amash (R-Mich.) explained in a Twitter exchange with Huffington Post's Mat Fuller, is that the concessions offered would have actually made the deal even worse for the American people.
@TrayLo21 Of course. There was no way to make a perfect bill. But we at least wanted something that didn't make Obamacare worse. @MEPFuller

— Justin Amash (@justinamash) March 26, 2017
3. Rep. Brat: Don't believe the hype
Taking issue with the typically-prevailing narrative that conservatives trying to keep campaign promises were the bad guys, Rep. Dave Brat (R-Va.) said that the president's remark was "ill-advised" and the result of "bad counsel."
"I think [Trump's] being ill-advised about even the critique of the House Freedom Caucus," Brat said on CNN Monday morning. "There's a narrative out there always against the most conservative members in the conservative caucus."
However, if the president want to assign blame, liberal and moderate republicans are the ones to look at, contra the typical story.
"Everyone goes after the conservative members, always," Brat said on CNN. "There were more moderate members who were going to walk away from that bill at the end. That's why the vote was pulled, right?"
4. Rep. Meadows: The debate isn't over
Following the president's tweet, Freedom Caucus Chair Mark Meadows (R-N.C.) said that the group's fight to keep their promises to the American people is far from over, despite indications to the contrary.
"This is not the end of the debate," Meadows said on ABC's "This Week."
"If they're applauding, they shouldn't," he said, indicating that conversations over the weekend were about how to bring the GOP conference together in order "to get [Obamacare repeal] over the finish line" and the idea that leadership's Friday fumble signaled an end to healthcare efforts was like "saying that Tom Brady lost [the Super Bowl] at half time."
"I still believe," he said, "that there is a good chance, if moderates and conservatives can come together, that we repeal and replace Obamacare … "
In an earlier tweet, the congressman pledged to uphold his promise to the people of North Carolina and continue to work for a "market-driven approach" to the collapsing system created by President Obama's signature legislation.
I remain wholeheartedly committed to keeping the promise I made to my NC-11 constituents–to fully repealing and replacing #Obamacare. pic.twitter.com/QdtxM91ib2

— Mark Meadows (@RepMarkMeadows) March 24, 2017
5. Rep. Davidson: Speed kills bad bills
When an effort falls apart, it's best to do a post-mortem and learn from it. One of the biggest factors in Friday's failure was pushing bad legislation with little input way too quickly, says one caucus member.
In a statement to Bloomberg news published over the weekend, Rep. Warren Davidson (R-Ohio) told the outlet that the speaker's strategy for getting votes was completely inverted. The story outlines how Ryan's "need for speed" on the effort was one of his bill's biggest problems.
"The path to this 'binary choice' with no amendments and an artificial deadline, driven by an anniversary rather than progress on the bill, have caused this pause [in the repeal process]," Davidson said.
6. Rep. Jordan: Let's get back to work
If at first you don't succeed, try and try again. Freedom Caucus Vice Chair Jim Jordan (R-Ohio) put it simply that conservatives did the country a favor by not allowing a sub-par bill to go through, thus allowing for a better one to go to the president's desk.
We must immediately return 2 drawing board, bring bolder effort 2 replace #Obamacare w/ plan 2 reduce costs by increasing choice/competition

— Rep. Jim Jordan (@Jim_Jordan) March 24, 2017
"Let's be responsible, get back to work and do what we told the American people what we were going to accomplish," Jordan said Sunday, "which is repeal Obamacare and replace it with a patient-centered health care program."
https://www.conservativereview.com/commentary/2017/03/6-best-freedom-caucus-smackdowns-of-gop-leaderships-rinocare-lies