Ben Carson's Free-Falling Campaign Loses Top 2 Staffers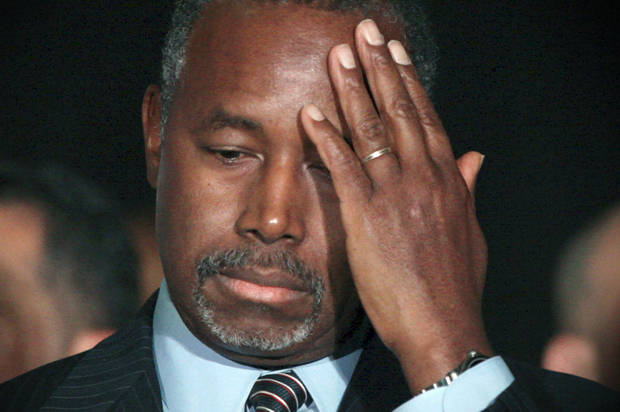 Ben Carson's campaign manager and communications director both resigned Thursday morning, just a month away from the Iowa Caucuses, in a surprise move that could shake up the campaign as his poll numbers continue their downhill slide.
Communications Director Doug Watts, in a statement to The Des Moines Register, confirmed that he and Campaign Manager Barry Bennett had stepped down, effective immediately. Further, Bennett told The Washington Post that more resignations are likely, as the internal stresses within the Carson campaign are forcing people to reconsider their support.
"We respect the candidate and we have enjoyed helping him go from far back in the field to top tier status, having just announced raising $23 million for the fourth quarter, more than any other Republican candidate, and passing one million contributions and over 600 million unique donors," Watts said in the statement. "Since March, we are proud of our efforts for Dr. Carson and we wish him and his campaign the best of luck."
Carson was once ahead of front-runner Donald Trump in the Iowa polls, but his popularity started to slip after questions about his foreign policy experience. His poll ranking was at 28 percent at its highest point in October, but according to an early December poll among Iowa's likely caucus growers, the retired neurosurgeon's ratings dropped by 15 percentage points.
A source inside the campaign told NBC News that there is stress within the campaign because of Carson's close friend and confidante, Armstrong Williams, who the source described as an "ongoing problem since day one."
The poll struggles and fundraising issues, said the source, are "all self-inflicted wounds created" by Williams.
Bennett told ABC News that staff changes were announced during a conference call Thursday morning, with the main change involving Watts.
Bennett said he told Carson he could not back that decision, and said, "it's time for me to go."
Carson was surprised, Bennett said, and asked to reconsider, but Bennett said he refused.
"[Carson] tried to blame some of the problems in the campaign on silly things, and I said, 'Ben we all know the root of our problems, let's not pretend it's not Armstrong Williams," Bennett told ABC News. "Ben said, 'I'll talk to him, I'll talk to him. But I've heard that for nine months now.
"Instead of talking to voters, we deal with his internal advisers and do things that shoot us in the foot and we have the inability to get them to stop," Bennett said. "Doug bears most of the brunt from Armstrong. Armstrong would set up appointments behind Doug's back and Doug became the target."
However, the resignations may not have been a surprise move, according to interviews Carson has been giving. Earlier this month, Carson said in an interview that he was considering major "personnel changes" to his campaign, reported NBC.
Hours later, he issued a written statement saying he has "100 percent confidence" in his team, but he'd told the Associated Press, earlier that "everything is on the table," and that he's "looking carefully."
Further, the AP reported, the interview was done without Bennett's knowledge. Carson also spoke with The Washington Post on Wednesday, and after the interviews were published, Bennett insisted that no staff shakeup was planned.
Washington Post Political Reporter Robert Costa, posting and updating through Twitter, said that Bennett told the Post over the phone that his "frustration level has peaked with Dr. Carson's outside advisers."
NEWS: Barry Bennett on phone now w/ @washingtonpost: "My frustration level has peaked with Dr. Carson's outside advisers." He has resigned.

— Robert Costa (@costareports) December 31, 2015
Bennett said there will be "lots of other people resigning" from Carson's campaign staff, and that he and Williams have been fighting for months. Further, Bennett told Costa, he has not seen Carson in person since mid-December, and that he'd spent the holidays every day hearing that he was going to lose his job.
Make sure to check https://t.co/FrwHocooqW in the next few hours. Lots more to come out about Carson shake up… pic.twitter.com/4AntrEJ6bV

— Robert Costa (@costareports) December 31, 2015
"Armstrong can come run it," Bennett told Costa.
Williams, in another phone call, said that retired Army Gen. Robert Dees will be in charge of the Carson campaign.