Freddie Gray Was Trying to Injure Self in Baltimore Police Van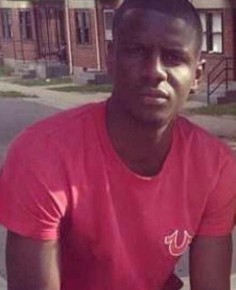 Freddie Gray, the 25-year-old black man who died of a spinal cord injury sustained while in Baltimore police custody, was banging against the walls of the police van he was being held in, according to testimony from another prisoner in the van, The Washington Post reported Wednesday night.
The prisoner, who was the only other prisoner in the van, was separated from Gray by a metal partition, but told investigators he could hear Gray "banging against the walls" and believed he was was intentionally trying to injure himself," an affidavit obtained by the Post read.
The Post agreed not to name the individual out of fear for his safety. Gray's death has sparked protests and rioting in the streets of Baltimore; the most violence was seen Monday night following Gray's funeral earlier in the day.
Jason Downs, an attorney for the Gray family, told the Post that the family has not been informed of the statement in the affidavit.
"We disagree with any implication that Freddie Gray severed his own spinal cord," he said. "We question the accuracy of the police reports we've seen thus far, including the police report that says Mr. Gray was arrested without force or incident."
Also on Wednesday, CNN reported that a friend of one of the police officers who arrested Gray said that the suspect was not shackled or restrained in the van because officers were not able to bring him under control. The officers were afraid that Gray would attack or bite them so they kept their distance once he was in the van.
Gray had been arrested on April 12 after fleeing from police in a high-crime area and was carrying a switchblade knife. He died a week later.
CNN's source, who spoke with his identity hidden, said that it was common practice not to buckle prisoners into their seats. The Post account also seems to support this.
http://www.newsmax.com/Headline/Baltimore-Post-Freddie-Gray-injure/2015/04/29/id/641640/