U.S. publishing giant erases Israel off map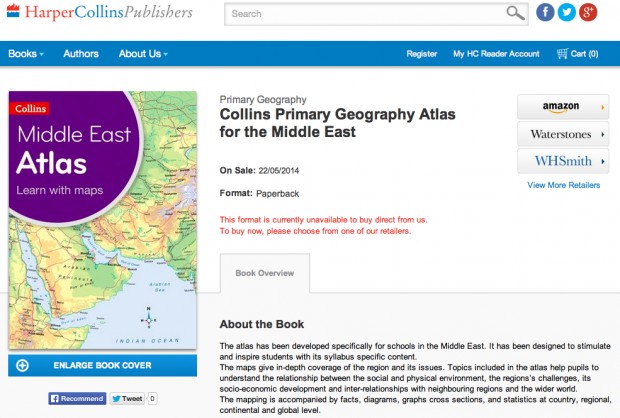 Publishing giant HarperCollins is publicly apologizing for omitting Israel from an atlas it published earlier this year that was being sold to schools in the Middle East.
That atlas, titled, "Collins Primary Geography Atlas for the Middle East," went to print in May 2014 and was intended for use by English-speaking schools.
Outrage as publisher wipes Israel from the map http://t.co/7fwXTbAZ6D pic.twitter.com/gG3yZK9Xej

— The Independent (@Independent) December 31, 2014
The book excludes Israel from a map of the region and depicts "Jordan and Syria extending all the way to the Mediterranean Sea," as was first reported by the Tablet, an international Catholic outlet.
Collins Bartholomew, a HarperCollins subsidiary, reportedly told the outlet that including Israel wouldn't have been acceptable to regional customers.
Israel isn't mentioned in an official description of the atlas on the HarperCollins U.K. website, though the text says that the book offers "in-depth coverage of the region and its issues," including "its socio-economic development and inter-relationships with neighbouring regions and the wider world."
The publisher issued an apology Wednesday over the omission on its Facebook page.
"HarperCollins regrets the omission of the name Israel from their Collins Middle East Atlas," read a Facebook message. "This product has now been removed from sale in all territories and all remaining stock will be pulped. HarperCollins sincerely apologises for this omission and for any offence caused."
As of Wednesday afternoon, text on the company's website reads, "This format is currently unavailable to buy direct from us. To buy now, please choose from one of our retailers."
Complaints about Israel's apparent absence from the atlas stretch back to September, when a user named Sysan commented that the Jewish state isn't present.
According to the Tablet, the Bishops' Conference of England and Wales has accused the publisher of hampering peace efforts by making an atlas that cuts Israel off the map.
"The publication of this atlas will confirm Israel's belief that there exists a hostility towards their country from parts of the Arab world," Bishop Declan Lang, chair of the Bishops' Conference Department of International Affairs, told the outlet. "It will not help to build up a spirit of trust leading to peaceful co-existence."
http://www.theblaze.com/stories/2014/12/31/look-closely-can-you-spot-the-major-middle-eastern-country-missing-from-this-atlas/