Muslims Attack Immigration Officers and Slash Tires In East London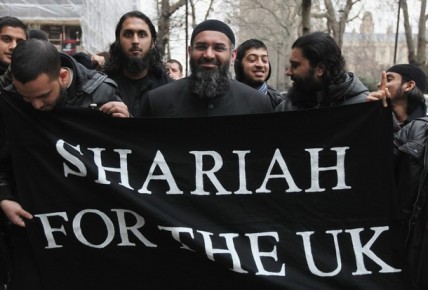 Immigration officers were pelted with eggs by Muslim youths, had 16 tires slashed on their vans and an unmarked car was keyed during an immigration raid on Wednesday. Reports suggest locals in Shadwell – a majority Muslim area of east London – then refused to assist officers or sell them new tyres.
Witness Nur Choudhury wrote on Facebook: "Immigration Enforcement officers in Shadwell. Their tyres got slashed, valves taken and cars scratched. The local garage refused to sell them tyres or help them. To top it all off they got egged from the local tower block and a few landed direct on their heads. Welcome to Shadwell :)"
More that a dozen immigration officers arrived in Shadwell on Wednesday looking for three suspected illegal Bangladeshi workers. They returned to find their vans badly vandalized.
Media stunted immigration raid in Shadwell ends with 2 arrests and at least 16 new tyres for @ukhomeoffice pic.twitter.com/IA5SIoSzSG

— Abu Amaanah (@AbuAmaanah) July 22, 2015
And now it's raining eggs! Hahahaha. #GoBackToWhereYouComeFrom & #ThisIsShadwell could be heard! pic.twitter.com/xiueT6cBQn

— Abu Amaanah (@AbuAmaanah) July 22, 2015
And now the police have turned up. I don't think they're here to clean up the mess or damage to the vehicles pic.twitter.com/I7aG5unLqY

— Abu Amaanah (@AbuAmaanah) July 22, 2015
Multiple sources online and across social media claim locals then refused to cooperate with officers and Bigland Tyres, which is opposite where the vans were parked, refused to sell the officials new tyres. However the garage has since denied this, claiming they didn't have the correct sized tyres.
A witness told The Daily Mail: "I saw about five or six youths come out of nowhere and run towards the immigration vans. They had kitchen knives in their hands and they slashed the tyres and scratched the bodywork.
"It all happened very quickly, then they ran off. I think they were local Muslim hoodies just doing a prank, but it's not funny. It's the sort of thing that will cause this area problems now."
A Scotland Yard spokesman said no arrests had been made but "inquiries are ongoing." A Home Office spokesman added: "We will not tolerate abuse or criminal damage. Offences will be reported to the police."
"Reports of a dozen tyres of the #racistvan being let down in Shadwell on Wednesday & eggs being thrown at them," tweeted the organization Anti Raids Network, an left-wing anarchist pressure group which helps orchestrate and organize what they call "direct action."
Wednesday's incident follows a very similar pattern to that seen during a raid in Walworth in the east London district of Southwark on the 21stJune. The Anti Raids Network proudly relayed their full account of that afternoon's event's on their blog:
"After call-outs went out through the local grapevine and also on social media, people from the area including the next door Aylesbury Estate rushed down to the scene. The Home Office snatch van was blockaded and penned in on a side street off the market. The bullies retreated inside the van with their prisoner while it was surrounded by people's bodies and by makeshift barricades, the tires were let down, and it was pelted with rotten fruit and eggs from the market.

"The Home Office thugs called in police reinforcements. They arrived with six cars of cops, plus dog vans and plainclothes cops, and a helicopter circling overhead, as the street was cordoned off. However, the crowd kept on growing as more people from the estate and nearby streets joined in, local teenagers called up their mates, others arrived seeing it on social media.

"The stand off continued for over an hour, the local police clueless about what to do next. Then three vans of TSG riot cops arrived, tooled up in full body armour. The TSG pushed through, escorting the Home Office van limping out on deflated tires. They came under sustained attack as new barricades of street furniture kept getting thrown up to stop their progress and hails of rocks, bottles, road cones, etc., kept them at bay. At least one TSG cop was knocked to the floor, a riot van windscreen and other windows broken.

"…This is the response we want to be growing on our streets, every day of the week."
http://www.breitbart.com/london/2015/07/26/muslim-youths-attack-immigration-officers-and-slash-tyres-in-east-london/