New Billboards Target "New York Nazi Times" for Anti-Israel Reporting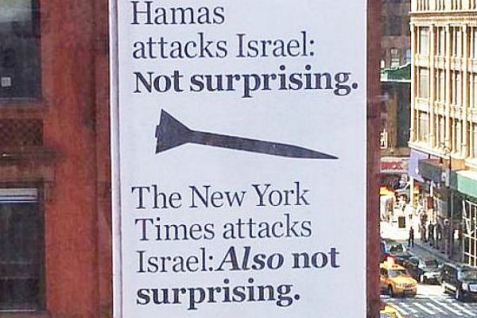 [Jewish Press] – The CAMERA watchdog organization has posted five new billboards in midtown Manhattan to spread the message of The New York Times' slanted reportage on Israel.
The organization, officially known as the Committee for Accuracy in Middle East Reporting in America, still posts a billboard opposite the newspaper's headquarters with a message that reads, "The New York Times Against Israel—All Rant, All Slant, All The Time. Stop The Bias!"
"We are expanding our effort to let the public know, beginning with the newspaper-reading public in New York City, that The Times persists—[and] has even doubled-down—in its long-standing pattern of prejudiced reporting and editorializing when it comes to Israel," said Andrea Levin, CAMERA's executive director.
One example of  The New York Times reports that play down terror is last month's Times' headline of the barbaric murders a Jerusalem's Har Nof synagogue.
The original headline stated, "Four Killed in Jerusalem Synagogue Complex," as if the four victims may have died in the collapse of the building or in a work accident.
"If The Times imagines it can escape scrutiny, it's quite mistaken. As long as The Times keeps lying about Israel, we'll keep telling the truth about them," Levin said.