New Trump Campaign Manager Was a Foreign Anti-Israel Agent for Muslim Saudi Prince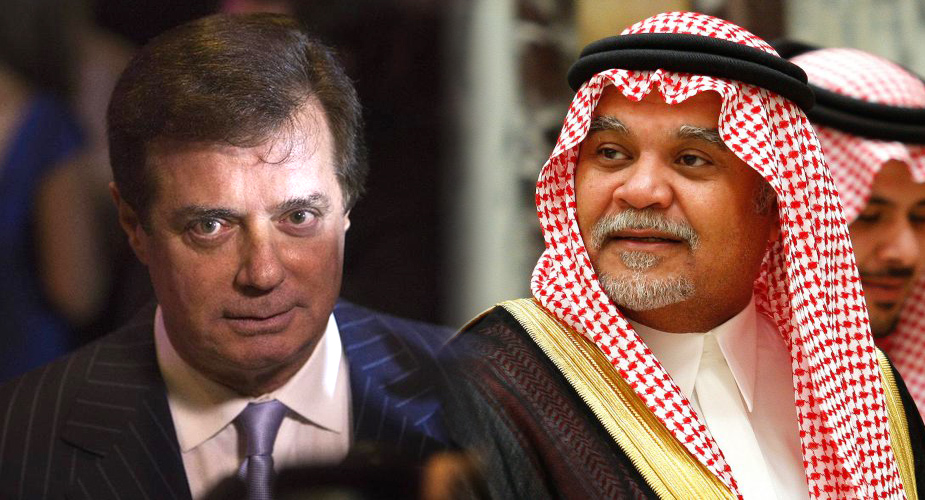 This week, Paul J. Manafort became the unquestioned senior staffer on the Donald Trump presidential campaign.  With the dismissal of campaign manager Corey Lewandowski, Manafort now maintains complete control of Trump's drive to the White House.
The last time Manafort had such a prominent role, he was answering directly to the infamous Saudi royal, Prince Bandar bin Sultan.  For several years, Manafort was a loyal lobbyist not only to Bandar, but to the kingdom of Saudi Arabia, as their most influential foreign agent in America.
A report detailing Manafort's lobbying for the Saudis first resurfaced in the Daily Beast.  However, government documents recently made public now offer more insight into his dealings with the House of Saud, in which he received hundreds of thousands of dollars per year to lobby U.S. lawmakers on behalf of the Wahhabi kingdom.
An issue of primary concern for Riyadh, for which Manafort was paid generous sums, was to eliminate support in Washington, D.C. for moving the U.S. embassy in Israel from Tel Aviv to Jerusalem, Israel's capital.
Manafort and his employees traversed the Capitol, making Saudi Arabia's case to American lawmakers as Riyadh's American foreign agents.
Manafort and his staff also lobbied legislators on the status of "Jerusalem in general," according to the newly released documents from the U.S. Foreign Agents Registration Act office.
The official Saudi position was at the time, and remains to this day, that Jerusalem should be the capital of a [so-called] "Palestinian" state and that Israel has no claim over the holy city.  The government of Saudi Arabia officially, does not recognize the existence or the sovereignty of the State of Israel.
These documents also reveal that Paul Manafort reported directly to Prince Bandar, who at the time was the Saudi ambassador to the United States.  In a 125-page disclosure released by the Foreign Agents Registration office detailing Manafort's Saudi lobbying activities, Bandar is mentioned as his point of contact on five separate forms.
http://www.americanthinker.com/articles/2016/06/new_trump_campaign_manager_was_a_foreign_agent_for_controversial_saudi_prince_bandar.html