NY High School Students Wear T-Shirts with Swastika and the word "Auschwitz": "Hit the showers!"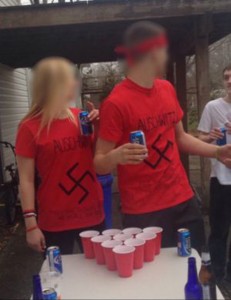 And these depraved animals weren't expelled? Where are the other parents? Where are school officials? Speak about Islam in a public school and you will be ruined (as was this teacher in Texas) but this?
In a statement, school district brass noted that "the actions of these students are not representative of the student body at Commack High School. We do not condone or permit any form of discrimination, bullying, or hateful messaging."
Then why aren't these Nazis expelled?
Two NY High School Students Wear 'Swastika' T-Shirts
By: Jewish Press News Briefs
Published: April 16th, 2015

Anti-Semitic t-shirts photographed at New York highs school.

Officials at Commack, N.Y. High School are investigating a confirmed report that two students showed up in school with red t-shirts bearing black swastikas and the word "Auschwitz" printed in large letter.

New York City radio station 1010 WINS said the shirts also carried a slogan ins smaller letters stating "hit the showers."
http://pamelageller.com/2015/04/ny-high-school-students-wear-t-shirts-with-swastika-and-the-word-auschwitz-hit-the-showers.html/