Obama: We Will Begin to Normalize Relationships with Cuba
The Obama administration is considering sanctions against Israel, but renewing ties with evil dictator mass murderer Fidel Castro. Obama said he and Castro spoke Tuesday in a phone call that lasted about an hour.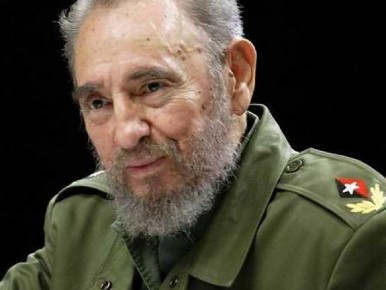 Obama announced Wednesday a sea-change policy shift in US relations with Cuba, issuing a series of orders — including establishing normal diplomatic relations — meant to end what he called America's "outdated approach" toward the [dictator] Castro regime.
"In the most significant change in our policy in more than 50 years, we will end an outdated approach that for decades has failed to advance our interests and instead we will begin to normalize relations between the two countries," Obama during an address from the White House.
Sources say Obama also plans to call on Congress to lift the long-standing embargo on Cuba. Together, the announcements would mark the most significant shift in U.S. policy toward the communist island in decades and effectively end the half-century freeze in relations between the two countries.
Senate Republican leader Mitch McConnell criticized the administration's plan to change the current U.S. relationship with Cuba. McConnell said he defers to GOP Sen. Marco Rubio, a Cuban-American from Florida, on the issue and says Rubio is an expert on U.S.-Cuban matters.
Rubio has said that the administration's approach will help the Castro government while doing very little to further human rights and democracy in Cuba.
Senior administration officials said Obama spoke with Cuban leader Raul Castro for more than 45 minutes on Tuesday, the first substantive presidential-level discussion between the U.S. and Cuba since 1961.
Obama also plans to take several executive actions, including expanding travel and economic ties to the island. According to a White House document, the U.S. government would raise remittance levels and authorize certain travel to Cuba, as well as start of review of Cuba's designation as a state sponsor of terrorism. Obama also has formally directed the State Department to launch talks with Cuba to re-establish diplomatic relations, which were cut in 1961. The embassy in Havana would be opened "in the coming months," according to the White House.
Officials said the Cuban government was releasing 53 political prisoners. The announcement comes after Gross was freed, as part of an agreement that included the release of three Cubans jailed in the U.S. Gross landed in the U.S. shortly before noon on Wednesday.
A senior Obama administration official told Fox News that Gross left Cuba on a U.S. government plane Wednesday morning, and was "released on humanitarian grounds by the Cuban government at the request of the United States."
Already, the rapid-fire developments were drawing a mixed response in Congress.
"It's absurd and it's part of a long record of coddling dictators and tyrants," Rubio told Fox News, claiming the administration is "constantly giving away unilateral concessions … in exchange for nothing." Rubio called Obama the "worst negotiator" the U.S. has had as president "since at least Jimmy Carter." He also said Congress would not support lifting the embargo.
Sen. Bob Menendez, D-N.J., who like Rubio is a Cuban-American lawmaker, said this is a moment of "profound relief" for Gross and his family. But he voiced concerns that this constituted a "swap of convicted spies for an innocent American."
"President Obama's actions have vindicated the brutal behavior of the Cuban government," he said in a statement. "Trading Mr. Gross for three convicted criminals sets an extremely dangerous precedent. It invites dictatorial and rogue regimes to use Americans serving overseas as bargaining chips."
Other U.S. lawmakers hailed the agreement, and some even joined Gross on the plane ride to the U.S. — Rep. Chris Van Hollen, D-Md.; Sen. Patrick Leahy, D-Vt.; and Sen. Jeff Flake, R-Ariz., were on that flight. U.S. officials said Pope Francis was personally engaged in the process as well and sent separate letters to Obama and Castro this summer urging them to restart relations.
The three Cubans released are part of the so-called Cuban Five — a group of men who were part of the "Wasp Network" sent by Cuba's then-President Fidel Castro to spy in South Florida. The men, who are hailed as heroes in Cuba, were convicted in 2001 in Miami on charges including conspiracy and failure to register as foreign agents in the U.S.
Two of the Cuban Five were previously released after finishing their sentences.
Cuba was also releasing a non-American intelligence "asset" along with Gross, according to a U.S. official. Administration officials claimed that Gross was not technically traded for the three Cubans, and that his release was humanitarian.
Obama administration officials had considered Gross' imprisonment an impediment to improving relations with Cuba, and the surprise deal was quickly making way for rapid changes in U.S. policy.
In a statement marking the fifth anniversary of Gross' detention earlier this month, Obama hinted that his release could lead to a thaw in relations with Cuba.
"The Cuban Government's release of Alan on humanitarian grounds would remove an impediment to more constructive relations between the United States and Cuba," Obama said in a statement.
The president has taken some steps to ease U.S. restrictions on Cuba after Raul Castro took over as president in 2010 from his ailing brother. He has sought to ease travel and financial restrictions on Americans with family in Cuba, but had resisted calls to drop the embargo. Obama raised eyebrows when he shook hands with Raul Castro at Nelson Mandela's memorial service last year.
The release Wednesday follows years of desperate appeals by Gross and his family. His wife, Judy Gross, said earlier this year that she feared for his life, saying he might do "something drastic."
Gross was detained in December 2009 while working to set up Internet access as a subcontractor for the U.S. government's U.S. Agency for International Development, which does work promoting democracy in the communist country. It was his fifth trip to Cuba to work with Jewish communities on setting up Internet access that bypassed local censorship.
Cuba considers USAID's programs illegal attempts by the U.S. to undermine its government, and Gross was tried and sentenced to 15 years in prison.
The surprise prisoner deal has echoes of the deal the U.S. cut earlier this year to secure the release of Army Sgt. Bowe Bergdahl, who had been held by the Taliban. In exchange for his release in May, the U.S. turned over five Taliban prisoners held at the Guantanamo Bay detention center.
http://www.foxnews.com/politics/2014/12/17/american-alan-gross-released-from-cuban-prison-official-says/