Your Private Facebook Messages Are Not Private: Facebook Smacked by Judge
Here a novel idea. Stop using Facebook!
Facebook is in the news yet again over issues related to privacy violations. This time around a judge in California has ruled that the company must face a class action lawsuit over scanning the private messages of its users, according to the Los Angeles Times:
Facebook will have to face a class action lawsuit alleging it violated users' privacy when it scanned the content of messages for advertising purposes, U.S. District Judge Phyllis Hamilton in Oakland ruled on Tuesday.

Judge Hamilton denied Facebook's bid to dismiss the lawsuit, which was filed by Facebook users Matthew Campbell and Michael Hurley in 2013. The suit alleges that until October 2012, when the social network says it stopped the practice, it scanned the content of private messages sent between users for links to websites, which were then used for delivering targeted advertising. The complaint alleges that this violated the federal and state privacy laws by "reading its users' personal [and] private Facebook messages without their consent."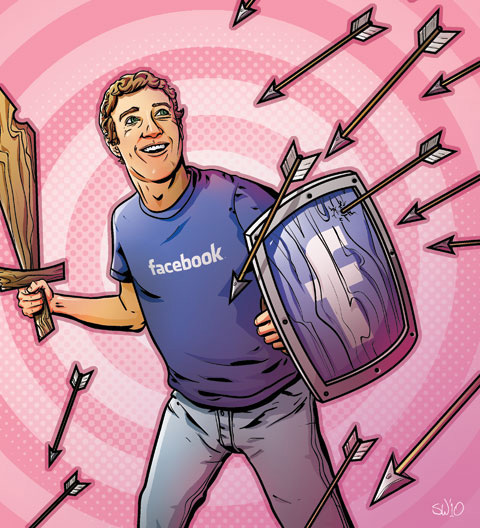 Wow, what a shock to find out that Facebook had been scanning the private messages of its users. I for one am flabbergasted to discover this…not. It fits in with numerous other privacy issues with Facebook in the past and I tip my hat to the judge for making the company face the potential consequences of its actions. It will be very interesting to see what the financial fallout is for Facebook if it ultimately ends up losing this class action lawsuit.
It's beyond me why Facebook couldn't be honest and direct with its users on this issue right from the start. It probably would have saved them the legal exposure and bad coverage in the media. But Facebook has a very weaselish way of doing things that usually ends up blowing up in the company's face at some point, and it always seems to take such an explosion to teach them to handle things in a more open and transparent way with their users.
Science Times reports that Facebook has finally commented on the class action lawsuit:
In a press release issued early this afternoon Facebook announced that their privacy policies will soon be amended to discuss concerns arising out of the lawsuit. Though the company's new features and controls may not necessarily protect you from the techy's behind-the-scenes at Facebook itself.

"Over the past year, we've introduced new features and controls to help you get more out of Facebook, and listened to people who have asked us to better explain how we get and use information" spokespersons from Facebook said in the press release. "Now, with Privacy Basics, you'll get tips and a how-to guide for taking charge of your experience on Facebook. We're also updating our terms, data policy and cookies policy to reflect new features we've been working on and to make them easy to understand."
Of course Facebook isn't the only company in hot water over scanning private messages. Google did the same thing and there are some lawsuits bubbling up through the legal system against that company (but no class action lawsuit yet that I'm aware of at this point). Google finally updated its terms of service to tell users clearly that messages will be scanned for advertising purposes.
Like Facebook, Google also seems to need a smack to teach it to behave properly. You'd think that these companies – with their billions of dollars – would be smart enough to handle these kinds of things in a different way. Common sense and ethics would dictate that they tell their users exactly what they are doing and why they are doing it right from the start. But perhaps both companies simply lack these two important things in their management structures?
As far as Facebook goes, the company apparently stopped scanning messages back in 2012, according to the LA Times story. But for me it's still another reason for Facebook users to consider dumping their Facebook accounts as soon as possible. Yes, Facebook may have stopped the private message scanning, but what other things is it currently doing that it may not be disclosing to users? There's no real way to know and, for me, that makes Facebook a definite no-go in terms of social media services.
http://jimlynch.com/internet/facebook-smacked-by-judge-for-scanning-private-messages/?singlepage=1