Cruz backer Steve King: Trump is buying endorsements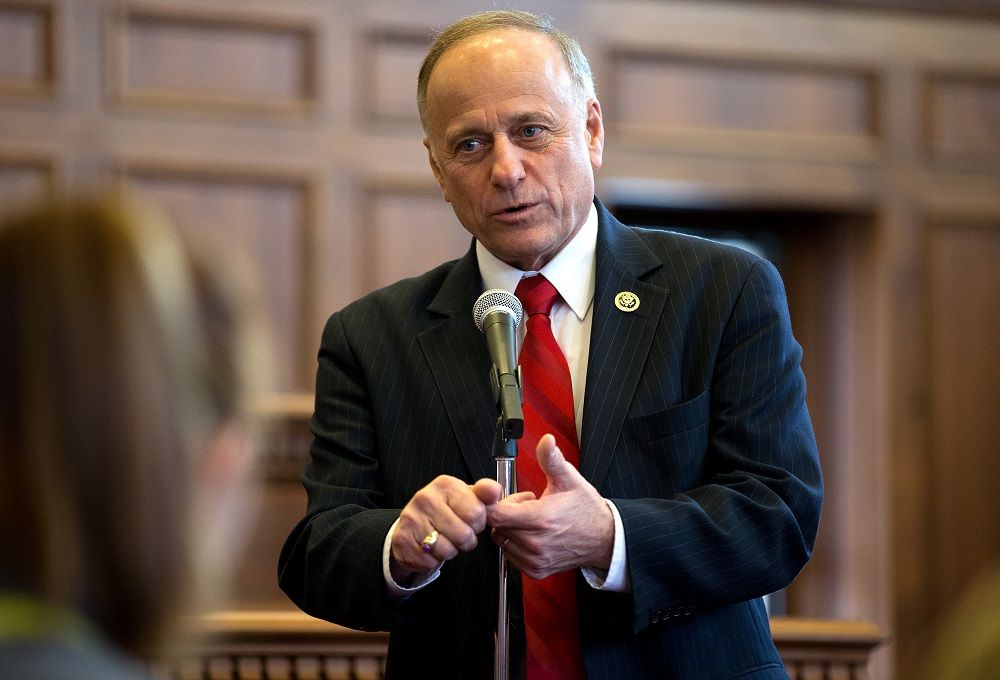 Ted Cruz's most influential backers, stunned by Donald Trump's commanding lead and growing list of endorsements, opened a new line of attack against the GOP front-runner on Tuesday – suggesting the New Yorker is buying support.
One of Cruz's most important surrogates in Iowa, Rep. Steve King, on Tuesday said Donald Trump has succeeded in lining up critical endorsements because he's able to make offers that are "awfully difficult to refuse."
"Let's just say this: when Donald Trump decides he wants somebody on his team, he has an unlimited reservoir of resources that he can bring to bear," King told POLITICO after Trump scored the backing of evangelical leader Jerry Falwell Jr. and anti-immigration hardliner Sheriff Joe Arpaio.
"One of them is money, but it may not be," King said. "It might be fame, it might be the mystique of the Trump machine, it might be people are afraid of retribution and it might be people that are looking for opportunities down the line. And it might be any combination of those things and others that I haven't said. That explains most of what you've seen come behind Donald Trump in one way or another."
Cruz's camp is scrambling to regain momentum as many polls show Trump with a substantial lead just six days until the Iowa caucuses. He and some on his team have started to try to lower expectations, and Cruz reportedly told pastors behind closed doors on Monday that Trump could be "unstoppable" if he wins Iowa and then follows that up with a victory in New Hampshire.
Trump's expanding roster of influential conservative supporters has come as a shock to Cruz's team, whose strategy is based on the belief that the Texan could lock up the evangelical vote not only in Iowa but nationwide.
Trump dedicated a good portion of his Twitter energy on Tuesday to one of Cruz's most connected and important supporters, Bob Vander Plaats, the CEO of the social conservative organization The Family Leader and also an Iowan.
"Why doesn't phony @bobvanderplaats tell his followers all the times he asked for him and his family to stay at my hotels-didn't like paying," Trump tweeted, following with,"@bobvanderplaats begged me to do an event while asking organizers for $100,000 for himself—a bad guy!" a couple hours later.
Vander Plaats was asked about the tweets by Wolf Blitzer on CNN Tuesday.
"That's Trump being Trump, his friendship comes with strings," Vander Plaats said. "He was very insistent to me and my wife in regards to a couple times we went to New York. Make sure you stay at my place, I'll put you up and all that. But what bothers him is I'm not willing to give him my endorsement over that. "
"I still consider Donald Trump a friend because my friendship doesn't come with strings," he added, saying that the attacks were a sign Trump was "desperate" because he "sees he's probably going to lose Iowa." Vander Plaats wouldn't commit to voting for Trump if he is the Republican nominee.
King on Tuesday said he wasn't pointing to any specific instances in which Trump promised any exchange to procure an endorsement. But he said that as the head of a powerful conservative network in the state, he knows the kind of negotiations that go on.
"Who's said no to Donald Trump when he's really wanted their endorsement? Who's said no? I can tell you different people that have," he said, while declining to specifically say whether Trump had offered him anything. "Let me say that we've been involved in a network of politics in this state for a long time, we have an organizational reach, and a family organizational reach that goes out to many components of politics in Iowa. When there are proposals that are made, that are seeking to gather those endorsements, I sometimes have a pretty good idea of exactly what they are."
A spokeswoman for Trump didn't immediately respond to a request for comment.
http://www.politico.com/story/2016/01/iowa-caucuses-cruz-trump-218252