Dick Morris: 'Total Implosion of Donald Trump'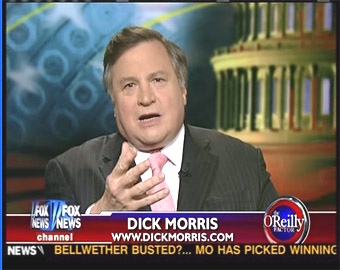 Ted Cruz's resounding victory in Wisconsin Tuesday "indicates a total implosion of Donald Trump," political strategist Dick Morris told Newsmax TV.
"It's unlikely that that will be confined to Wisconsin," Morris told host Dennis Michael Lynch on "America Votes: 2016″ in an interview." He can't handle the pressure."
He said that the spatting between the two rivals during the Wisconsin campaign "is helping Cruz decisively, which is why Cruz has let it continue.
"In fact, I would argue that Cruz really baited Trump into this — because it's showing the real Donald, and it's showing him in a way that women are revolted by."
Morris likened Trump's disappointing loss to Ross Perot's campaign run in 1992.
"Perot fell apart when the pressure got intense after he took first place in June of 1992. He had to pull out of the race — and he came back in September, won 19 percent.
"Trump is showing real evidence of coming apart, when he says NATO's obsolete and Japan and Korea should get the bomb and the Geneva Convention should be repealed. Totally flaky stuff.
"I think that he's out of control," Morris added. "I think that he's very enraged.
"This is a bullfight — and the picadors have gotten the bull really mad, and it won't be hard to kill him now."
http://www.newsmax.com/Newsmax-Tv/dick-morris-wisconsin-implosion-donald-trump/2016/04/05/id/722472/