Fleeing the country's civil war, Ukrainian Jews head for Israel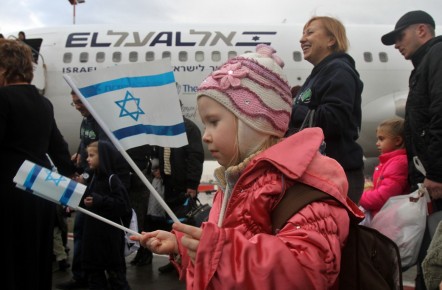 Yulia, Kostiantyn and their daughter, Valerie, don't look like a typical refugee family. All well dressed — even the Chihuahua, Micky, wearing a chic dog jacket — they might not seem out of place mingling with Kiev's oligarchs.
But the truth is that the family, Ukrainians of Jewish heritage on one side, has lost almost everything since clashes between pro-Russian separatists and Ukrainian nationalists caused it to flee to Kiev five months ago from the eastern city of Luhansk.
So on Monday, parents, daughter and dog — with 226 other Ukrainian Jews — left Kiev for Israel on a charter flight funded by a Christian-Jewish charity. In Israel, a government agency waited to help them start a new life. The new arrivals joined more than 5,000 Ukrainian Jews who have moved to Israel in the past year, about 1,300 of them from eastern areas claimed by separatists.
The number of Ukrainians arriving in Israel in 2014 is more than double that of the previous year. The Ukrainian government, which is facing an economic crisis, has little means to help those internally displaced by the war, now about 500,000, according to the United Nations.
http://www.washingtonpost.com/world/europe/fleeing-their-countrys-civil-war-ukrainian-jews-head-for-israel/2014/12/24/f79fb866-8619-11e4-b9b7-b8632ae73d25_story.html