High school students in hot water for wearing PATRIOTIC COLORS to basketball game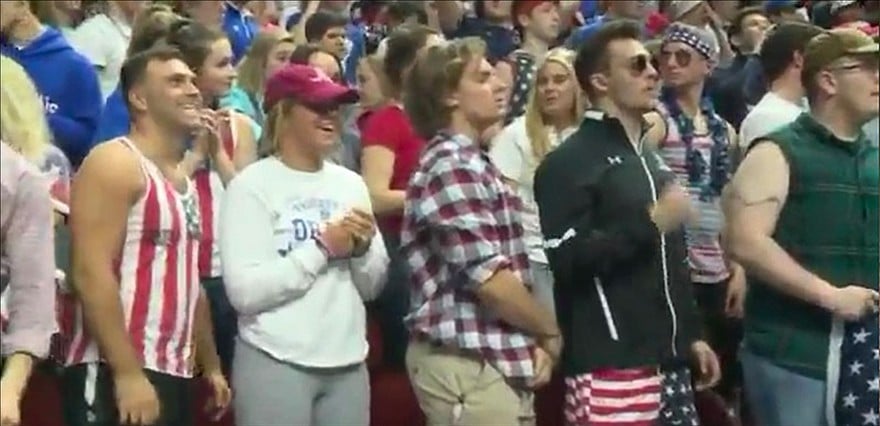 Apparently having a USA-theme night at a high school basketball game is now offensive, especially if the other team is from a large community of "refugees".
Here's more:
KCCI – The Valley Tigers bested the North Polar Bears 57-55 Wednesday night, but it wasn't the slim 2-point loss that's causing controversy.

Some North fans said the Valley crowd, decked out in red, white and blue in an America-inspired theme night — a trend among students to dress up at athletic activities — was meant to be a political statement aimed at mocking the more notably diverse North High School.

"A lot of people were very upset about it," North sophomore DeNasja Spencer said. "Even if that was their theme for the game, I feel like they should have switched that because everyone knows North is a more diverse school."

Tyreke Locure, a sophomore starting point guard for the boys basketball team, said he didn't notice the tension among the crowds until after the game.

"Everybody on the North side had on North shirts, and to be dressed in American flags, that was just different for us," Locure said. "Everybody from the Des Moines area (was) just tweeting crazy, and I can say I fell into the trap just because I was frustrated we lost."

But the tradition, Valley fans said, is nothing new.

"We had a USA theme, which we've done many times in the past," Valley freshman Dayna Dunnwald said. "It's really sad, and I hope everyone can resolve it in the end because no one at Valley meant it in that way. And it was just for fun."
How can anyone get offended by the good old red, white, and blue and displays of the American flag? After all, isn't that why so many refugees have come here, because of the freedom protected by our Constitution?
It's like we're living in Bizarro America or something.
The principle of Valley High School should have never felt the need to apologize for offending anyone. If refugees are offended by the American flag, they should find another country to go to.
http://therightscoop.com/unreal-high-school-students-in-hot-water-for-wearing-patriotic-colors-to-basketball-game/