Netanyahu Refuses to Meet With Anti-Israel and Jew-Hater Jimmy Carter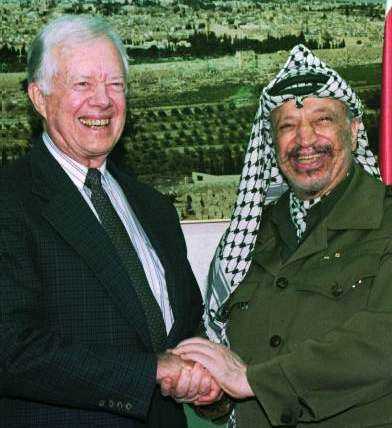 Israel's Prime Minister Benjamin Netanyahu and President Reuven Rivlin say they will not meet with former President Jimmy Carter during his coming visit to the area, The Times of Israel reported Monday.
A senior diplomatic official told Israel's Channel 10 that the former U.S. president — who is also to visit Hamas-ruled Gaza during his visit to the region, slated to begin sometime in the next 10 days — is "a disaster for Israel."
The official said that all Israeli leaders should refrain from meeting the former president because of his anti-Israel positions.
Israeli officials say that in recent years Carter has become increasingly strident in his attacks on the Jewish state.
During Israel's war with Hamas last year, Carter declared that there was "no justification in the world for what Israel is doing." He also slammed Netanyahu for allegedly blocking steps toward a "two-state [final solution]".
When Rivlin was Knesset speaker in 2010, he hosted Carter in his office and rebuked him for his meetings with Hamas representatives, telling the former U.S. president that Israelis perceive his behavior to be encouraging terrorism and regard him as a Hamas supporter.
In January, after Carter suggested that the International Criminal Court investigate both Israel and Hamas for war crimes, Harvard law professor Alan Dershowitz said the notion that Israel is in any way comparable to Hamas "is so obnoxious and so hypocritical and so typical of Jimmy Carter" that the world understands that the ex-president "has made himself irrelevant and tossed himself into the trash pan of history."
He added that Carter "never met a terrorist he didn't like. He loved Yasser Arafat and hated every Israeli leader he ever met."
Carter's behavior is "sad, because he was president of the United States and people listen," Dershowitz said. "What we should do is stop listening to him."
http://www.newsmax.com/Newsfront/Netanyahu-Jimmy-Carter-Reuven-Rivlin-refuse/2015/04/20/id/639686/