NINTH woman accuses Trump of sexual harassment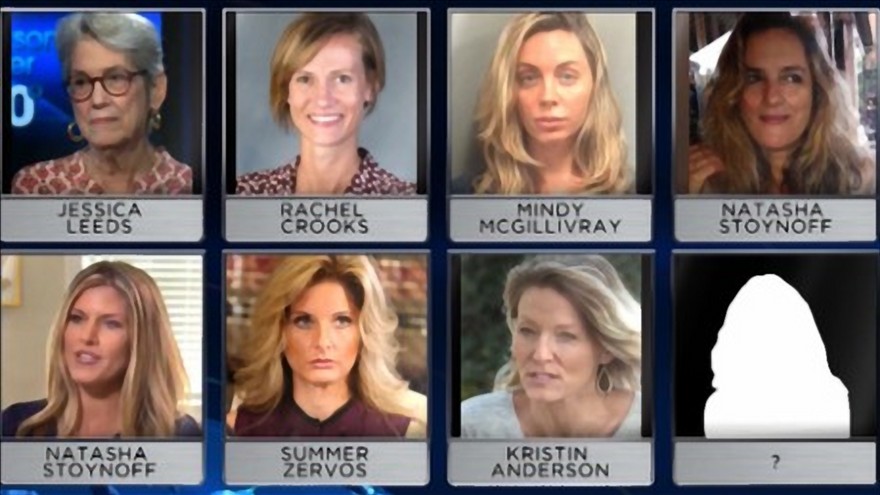 Yet another woman has come out to say that Trump tried to make his libido great by sexually harassing her. This was at a family brunch about 2 decades ago.
Watch below:
From the Guardian:
It was a story Heller had told many friends and family members over the years, but is only now telling in public. Some 20 years ago, she claims, when she met Donald Trump for the first and only time, he grabbed her, went for a kiss, and grew angry with her as she twisted away. "Oh, come on," she alleges that he barked, before holding her firmly in place and planting his lips on hers.

It is exactly what Trump claimed, in the most recent presidential debate, that he did not do. And so Heller has added her voice to a chorus of women now accusing Trump of unwanted behavior. "He can't claim we're all liars," Heller said.

Her allegation tracks closely what Trump claimed in a 2005 recording obtained by the Washington Post. "You know I'm automatically attracted to beautiful – I just start kissing them," Trump is heard saying on the tape. "It's like a magnet. Just kiss. I don't even wait."
And:
Their alleged encounter took place almost two decades ago – Heller believes the year was 1997 and she was at a Mother's Day brunch – at Trump's Mar-a-Lago estate. Heller, her husband, her three children and her in-laws were among dozens of families seated at big round tables in what she and a relative who spoke to the Guardian recall was an open lobby.

Trump made the rounds greeting members of his club. When he stopped at their table, Heller recalled, and her mother-in-law introduced her, she stood and extended her hand.

"He took my hand, and grabbed me, and went for the lips," she claimed.

Alarmed, she said she leaned backwards to avoid him and almost lost her balance. "And he said, 'Oh, come on.' He was strong. And he grabbed me and went for my mouth and went for my lips." She turned her head, she claims, and Trump planted a kiss on the side of her mouth. "He kept me there for a little too long," Heller said. "And then he just walked away."
Maybe he'll find some other child sex slave ringleader who witnessed this and will dispel it completely.
http://therightscoop.com/ninth-woman-accuses-trump-sexual-harassment/