Religion of Peace: 3 Muslim Suicide Bombers Murder 41 And Injure Hundreds at Istanbul Airport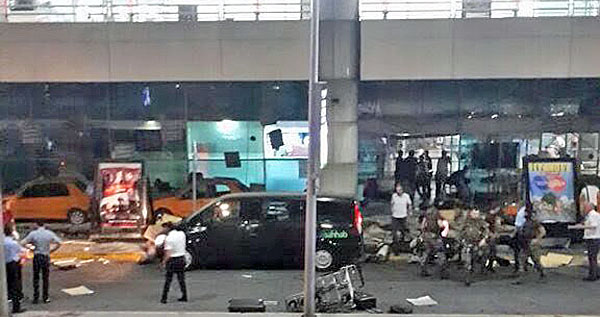 Terror attack after terror attack shows that Islam is a death cult.
Airports in the U.S. and around the world increased security in the wake of Tuesday night's suicide bombing attack at Istanbul airport, in which the Islamic State terror group is suspected of killing at least 41 and injuring hundreds more.
The body count was expected to climb in the wake of the attack at one of the world's busiest airports after three suicide bombers opened fire with AK-47s before blowing themselves up as police engaged them. As if to underscore Turkey's determination to carry on in the face of a growing threat, the airport reopened Wednesday, just hours after the dead and some 239 wounded were carried away and glass and debris cleared.
"The findings of our security forces point at the Daesh organization as the perpetrators of this terror attack," Turkish Prime Miniser Binali Yildirim told reporters at the airport, using the Arabic name for ISIS. "Even though the indications suggest Daesh, our investigations are continuing."
The attack bore hallmarks similar to the March 22 coordinated terror attacks in Brussels, in which ISIS operatives killed 32 in bombings at the attack at Zaventem airport and a nearby metro station. ISIS had not taken credit for Tuesday's attacks at Ataturk Airport, and Ankara has battled Kurdish militants as well as ISIS.
A U.S. government official told Fox News that the attack fits the profile of ISIS, which has stepped up its targeting of Turkey. The official said ISIS tends to attack internationally known targets with an economic impact, such as an airport, while the Kurdish terror group PKK generally targets Turkish military and law enforcement.
http://nation.foxnews.com/2016/06/28/death-toll-istanbul-airport-suicide-attack-more-35-officials-suspect-isis