Remember when Hillary Clinton hired those Planned Parenthood staffers?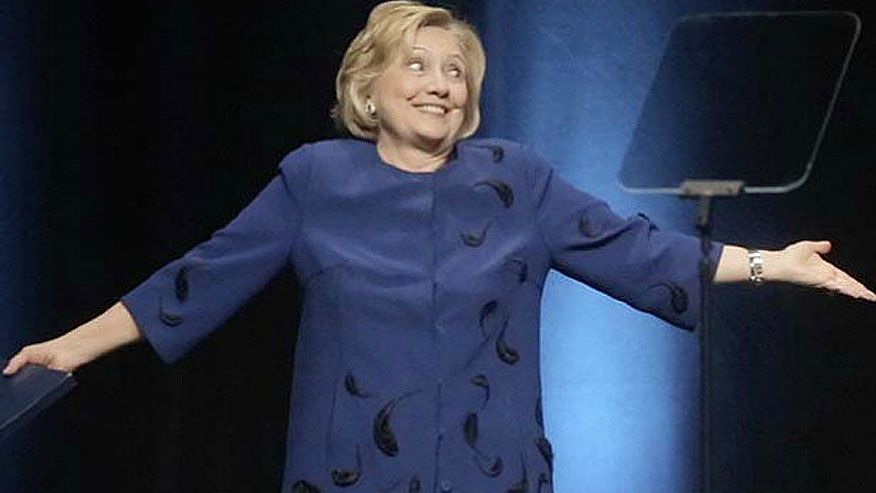 As we approach the very real possibility of a government shutdown (which we discussed earlier this morning) one feature of the argument is going to be getting a lot of play and it will drag the presidential candidates into the discussion front and center. The reasons for the next breakdown in communication between the two sides have many facets but the one that's going to draw all the attention is the question of funding for Planned Parenthood. If this comes as a surprise to you then you haven't been paying attention. (Washington Times)
Senate Republicans set up a vote Thursday to withhold some money from Planned Parenthood as part of a deal to keep the government funded beyond the end of this month, cuing an abortion-tinged shutdown showdown just hours after Pope Francis addresses a joint meeting of Congress.

Democrats are vowing to block the move. They and conservatives alike say the vote is a fig leaf and predicted Republican leaders will eventually relent on the Planned Parenthood fight to avoid a repeat of the 16-day shutdown in 2013.
You can't have an event of this magnitude pass by without the presidential contenders being pulled into the mix to weigh in. The media will obviously feature the Republicans who pushed for defunding provisions quite heavily, but with American sentiment turning steadily against PP, the Democrats will be on the line as well. This particularly applies to their beleaguered frontrunner, who recently made her position on the subject quite clear. (Life News)
After today's House vote to de-fund the Planned Parenthood abortion business, Hillary Clinton took to twitter to adamantly defend taxpayer funding for the abortion company. As is typical, Clinton couched the support for Planned Parenthood in terms of women's health, ignoring completely how it is the nation's biggest abortion business.
Cutting off Americans from lifesaving health care at Planned Parenthood is wrong. #standwithPP pic.twitter.com/XQbcLdzbUJ

— Hillary Clinton (@HillaryClinton) September 18, 2015
So has Clinton taken Carly Fiorina up on her dare yet and actually watched any of the Planned Parenthood baby parts videos? Reporters have tried to ask her but she refuses to say. But then, she's never been one to let a little thing like facts or evidence get in the way. She's actually been all in on Planned Parenthood for quite a while. The benefits for her in political terms are obvious, at least when it comes to pleasing the furthest left segment of her base in the increasingly complicated primary race she's running. And it seems clear that she has been taking their concerns seriously all year. It's been reflected in more than one of her staffing decisions. (Fox News)
The Hillary Clinton campaign has hired a former Planned Parenthood organizer to rally support from Asian Americans.

The Clinton campaign announced on Tuesday that it hired Lisa Changadveja, a former Planned Parenthood official. Changadveja took a job with the embattled abortionist after serving as a regional field director for Clinton's failed 2008 run and deputy field director for Gov. Bill Bennett of Colorado during his successful gubernatorial campaign in 2010.
Of course we shouldn't be surprised to learn that one hand still washes the other in American politics. It turns out that Hillary has been the biggest recipient of political contributions from Planned Parenthood figures of any Democrat hopeful, and by a wide margin. So generous was their largess that it added up to more than $10K just in the first quarter of this year. (Washington Free Beacon)
The former secretary of state collected nearly $10,000 from nine individuals who work for the country's largest abortion provider, including from several high ranking executives at the billion-dollar operation. The first quarter fundraising total nearly matches the amount Clinton received over the course of her previous three political runs.

She received far more from Planned Parenthood employees than her Democratic rivals, the former Maryland governor Martin O'Malley, Sen. Bernie Sanders (I., VT), the former Rhode Island governor Lincoln Chafee, and the former Virginia senator Jim Webb. Webb, O'Malley, and Sanders have perfect pro-abortion voting records, while Chafee scored a 90, according to NARAL rankings.
By contrast, Bernie Sanders racked up a grand total of 500 bucks in the same period from these sources.
Hillary might have wanted to think this through a bit more. Sure, her base that will turn out to vote in the primary is all onboard with PP funding, but I don't think her plunging poll numbers have anything to do with her support for abortion in general or Planned Parenthood in particular. If she needs to shore up support in the primary she probably needs to do something about so many people listing "Liar" as the first word to come to mind when her name comes up. In the end, it's not abortion that's going to get her past the primary but it might be a factor in sinking her in the general election. (Assuming she makes it that far.)
Let's not forget which way the wind has been blowing on this subject since all of those sickening videos came out. In one of the most recent surveys done, a huge majority of respondents said they were in favor of "an unnamed group" receiving funding to provide specific services such as women's health exams, prenatal services and contraception. That support number dropped from the 70s to 54 when the name Planned Parenthood was attached to the question. For those who then either saw the videos or had them described to them, support for federal funding plunged to 39%.
Does Hillary really want to hitch her wagon to that particular horse? Given the hiring she's done, the donations she's accepted and her endless tweeting it's probably too late for her to unring that bell now.
http://hotair.com/archives/2015/09/23/remember-when-hillary-hired-those-planned-parenthood-staffers/