Ted Cruz celebrates Tax Day by reiterating his goal of eliminating the IRS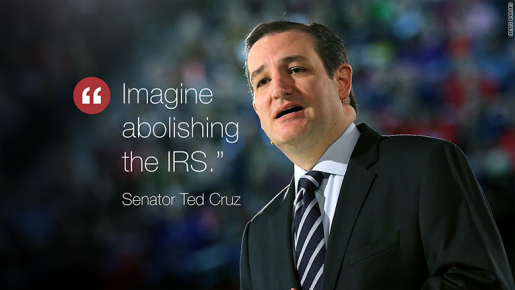 Tax Day represents the filing deadline for IRS tax returns covering the preceding year. Cruz railed against the IRS during a campaign stop in Maryland on Monday.
"Today is Tax Day," Cruz said to loud boos. "Whole lot of people here spent a lot of money, a lot of time, a lot of hours, filling out meaningless paperwork. Well let me tell you, in a couple of years everyone of us is going to fill out our tax return on a postcard. And when we do that, we should abolish the IRS."
Cruz also tweeted out an ad featuring a video of a monkey appearing to do its taxes.
We don't have to live like this… #AbolishTheIRS: https://t.co/JGbKBnKFixhttps://t.co/Baj9lro4PA— Ted Cruz (@tedcruz) April 18, 2016
"On Tax Day, remember one thing. We don't have to live like this," reads font onscreen in the ad as a monkey bangs away on a calculator. "Ted Cruz will abolish the IRS."
The Texas senator's trip to Maryland is sandwiched in between a day of campaign events in New York. Trump is expected to perform well in his home state, but Cruz has singled out Maryland as east coast state where he expects to be competitive.
The Maryland Republican primary will occur on April 26.
http://www.washingtonexaminer.com/heres-how-ted-cruz-celebrates-tax-day-on-the-campaign-trail/article/2588845