The Iran-Hamas Plan to Destroy Israel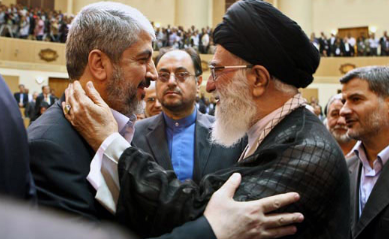 The Iranians are urging Hamas to hold on to its weapons in spite of the recent "reconciliation" agreement signed between Hamas and Fatah under the auspices of Egypt. Iran's goal in this move? For Hamas to maintain and enhance its preparation for war against Israel.
A high-level Hamas delegation headed by Saleh Arouri, deputy chairman of Hamas's "political bureau," traveled to Tehran last week to brief Iranian leaders on the "reconciliation" deal with Fatah. During the visit, Iranian leaders praised Hamas for resisting demands (by Fatah) to disarm and relinquish security control over the Gaza Strip.
"We congratulate you on your refusal to abandon your weapons, an issue that you consider as a red line," Ali Velayati, a senior Iranian politician and advisor to Leader of the Islamic Revolution Ayatollah Khamenei, told the visiting Hamas officials. "The Palestinian cause is the most important cause of the Islamic world, and after all this time you remain committed to the principle of resistance against the Zionists despite all the pressure you are facing."
https://is.gd/qUvotb