Top Luther Strange Strategist in 2015 Said Donald Trump's 'New Best Pal' Was Vladimir Putin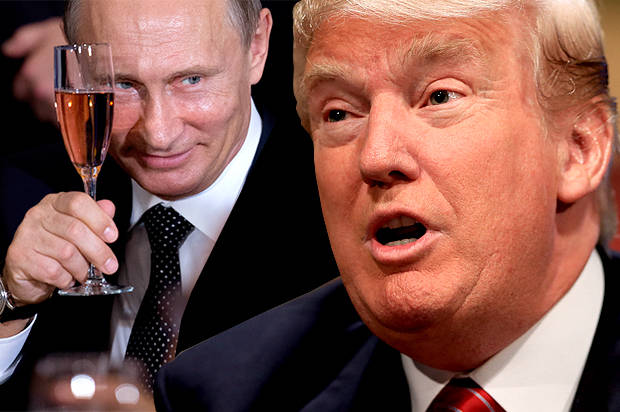 Kristin Davison, Karl Rove's ex-chief of staff whom Luther Strange hired in Alabama to lead his campaign, tweeted in December 2015 that she believes that President Donald Trump's "new best pal" is Russian President Vladimir Putin.
Trump doing real work defending his new best pal, Vladimir Putin on @ThisWeekABC right now.

— Kristin Davison (@KristinDavison) December 20, 2015
Davison's hiring on the Strange campaign has been controversial in the Washington establishment-backed appointed senator's effort to win a hotly contested primary here, as President Trump has considered Strange's decision to hire Davison a personal insult, according to multiple White House aides. That is because Trump does not like Rove and told Breitbart News in April 2016 that he believes Rove is a "dishonorable guy" who should not be allowed to write for the Wall Street Journal. Strange's hiring Rove's ex-chief of staff on the campaign was part of why Trump waited until the last weekend before the September 26 GOP primary runoff to campaign for Strange, and also part of why Trump said from the stage he believes he may have made a "mistake" endorsing Strange and will campaign for conservative Judge Roy Moore if Moore is successful on Tuesday.
Strange spokesman Cameron Foster has not replied to a Breitbart News request for comment on whether Strange himself agrees with Davison's comments on Twitter in 2015 where she called Trump and Putin friendly—furthering and igniting a conspiracy theory that has dogged Trump's first year of his presidency—but Strange has still kept Davison employed, though Breitbart News can confirm the senator is personally aware of what she said.
While Trump has endorsed and campaigned for Strange, a Moore victory would be better for his agenda, as it would send a message to the establishment in Washington—especially Senate Majority Leader Mitch McConnell—that the people do not approve of their lack of progress on Trump's agenda. Moore, a hardcore conservative and outspoken economic nationalist like Trump, is a former Alabama Supreme Court Chief Justice. Strange, on the other hand, is a former Washington, DC, lobbyist who became Alabama's attorney general—and then went on to get appointed to the U.S. Senate by disgraced former Gov. Robert Bentley under unusually suspect circumstances. Strange was investigating the governor when he appointed him to the U.S. Senate for a scandal over which Bentley was later forced to resign.
http://www.breitbart.com/big-government/2017/09/23/top-luther-strange-strategist-2015-trumps-new-best-pal-putin/