Trump: "I Love the Muslims" – Would Consider Putting One In His Cabinet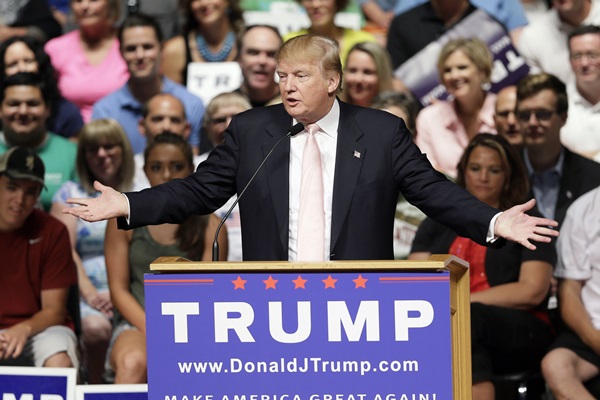 GOP presidential candidate Donald Trump, under fire for not correcting a man at a New Hampshire town hall for attacking Muslims and accusing President Barack Obama of being one, said on Saturday he loves Muslims and would consider putting one in his cabinet, CNN reports.
Trump spoke before a high school homecoming event in Urbandale, Iowa, and was asked by a student about the issue.
"I consider Muslim Americans to be an important asset to our country and society. Would you consider putting one in your cabinet, or even on your ticket?" a student asked Trump.
"Oh, absolutely. No problem with that," Trump responded.
A CNN reporter also asked Trump about the controversy outside the event.
"I love the Muslims. I think they're great people," Trump said.
Trump's first question at Thursday's even in Rochester, New Hampshire, came from a man who accused Obama of being a Muslim and not an American citizen. He said Muslim training camps are growing and "they want to kill us." He then asked, "When can we get rid of them."
Trump didn't address the issue directly, and moved on to other questions, sparking criticism that he should have done what GOP presidential nominee John McCain did in 2008. McCain grabbed a microphone back from a questioner and told her Obama was a good man, but that he had the wrong policies.

Trump responded that he isn't obligated to defend Obama and asked whether Obama would defend him if someone made a nasty statement about him.
http://www.newsmax.com/Newsfront/trump-muslims-love-them/2015/09/20/id/692424/