Trump's Health Care Plan Just Got Scarier
The Donald's chief policy adviser pledges that it will be "bipartisan."
Ronald Reagan famously said that the nine most terrifying words in the English language are: "I'm from the Government, and I'm here to help." As Obamacare has demonstrated all too clearly, any such declaration from a federal official is indeed cause for alarm. Nearly as scary for conservatives is the word, bipartisan, when uttered by a Republican candidate for office or one of his close advisers. This is why conservatives of all stripes should be unnerved that Sam Clovis, chief policy adviser to Donald Trump, told the New York Times last Friday that any replacement for Obamacare "must be bipartisan."
"Bipartisan," when used by a GOP candidate, is usually a signal to the Democrats that many of his ostensible principles are negotiable. It is particularly worrisome when deployed by an adviser to Trump, who has been on all sides of the health care debate, depending on the political exigencies of the moment. "The Donald" has, of course, often lavished praise on the government-run health care systems of countries like Canada and Scotland yet now pledges to replace Obamacare with a bilious admixture of its worst elements and even dumber proposals long advocated by the Democrats.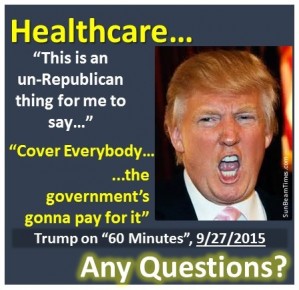 In other words, because it contains a wide variety of bad Democrat ideas, Trump's plan is already "bipartisan." Thus, when we find one of his closest advisers throwing this term around during an interview with the Times, one can't help but wonder what else the Donald will give away in the unlikely event that he wins the presidency. Compounding the queasy feeling induced by that question is the reality that Clovis himself apparently has rather flexible principles. Before he joined the Trump campaign last summer, he was one of the real estate magnate's most frequent and vociferous critics.
Shortly after Clovis abandoned Rick Perry's campaign to work for Trump, the Des Moines Register reported that he had written a number of emails questioning the Donald's character, commitment to conservatism, and the sincerity of his abortion stance. More to the point, one of the Clovis emails cast doubt on Trump's claim that he would replace Obamacare with a plan that conservatives would find acceptable: "Why should I not be suspicious of a person who advocates for universal healthcare?" Now that Clovis receives a paycheck from Trump, however, these concerns have apparently evaporated.
Instead, we find Clovis assuring the Times that Trump's widely panned health reform plan is "just a start" and that several prominent health policy experts are advising the campaign. He was, however, unwilling to name any of these heavy hitters: "They are not ready to have their support of the Trump campaign known." It's certainly plausible that any policy expert would be reluctant to admit that he played a part in cobbling Trump's plan together. But that Clovis is now peddling the very talking points upon which he had so recently poured scorn doesn't enhance his or his employer's credibility on the reform issue.
Nor is their credibility on the issue likely to be improved among opponents of Obamacare by the answer Clovis provided in response to a question about who would be covered under Trump's plan: "[W]e really don't know that. A lot of it depends on what initiatives we can get through Congress." This is, of course, where the "B-word" arises. Unless Trump sweeps into the White House with unprecedented Republican majorities in Congress, a contingency so remote that it fails the laugh test, "bipartisan" means that any change to Obamacare will require Democrat support that is unlikely to materialize.
Trump's supporters believe this obstacle can be overcome by a virtuoso negotiation performance from the Donald. The problem here is that, his own claims notwithstanding, Trump isn't actually a very good closer. This is why he has been outsmarted by Ted Cruz in state after state in the fight over convention delegates. Trump suffered yet another defeat over the weekend in Colorado, where the Texas Senator achieved a clean sweep. His supporters make the risible claim that Cruz is colluding with the establishment to "steal" the nomination. The ironic truth is that Cruz is better at the art of the deal.
If Trump can't handle the delegate negotiation process within the GOP, he hasn't a prayer of outmaneuvering congressional Democrats. The latter have lost Congress yet still manage to thwart any serious change to Obamacare. Thus, if Trump does actually make it to the White House, a bipartisan replacement will require him to give away the store to get a deal. He would have to cave on provisions such as the individual mandate, and he has already surrendered on provisions — like giving Medicare authority to "negotiate" drug prices — that were so bad they failed to make the cut in 2010.
All of this assumes that Trump actually intends to replace Obamacare. But, as Clovis put it himself, "Why should [we] not be suspicious of a person who advocates for universal healthcare?" The answer is that we should be suspicious. But Clovis serves a new master now, and he deployed "bipartisan" in his Times interview to signal Beltway insiders that Trump is willing to carry on with business as usual. It was an attempt to make the Donald seem less scary. Paradoxically, "bipartisan" makes his health care plan scarier than ever. It means Obamacare is here to stay if Trump becomes President.
http://spectator.org/articles/66011/trump%E2%80%99s-health-care-plan-just-got-scarier