Turkish President Calls on All Muslims to "Protect" Jerusalem From the Jews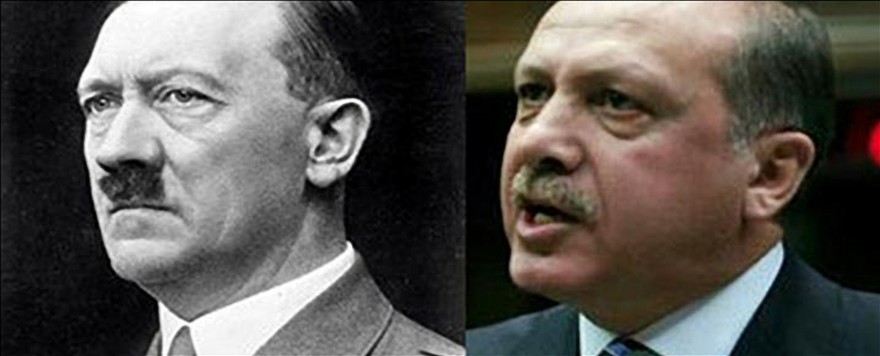 It's being reported that yesterday, at a symposium on Jerusalem in Istanbul, that Erdogan called on all Muslims to "protect" Jerusalem and said it shouldn't just be left to [so-called] "Palestinian" children armed with stones:
There is no such thing as "Palestine" or a "Palestinian". It is a lie and a propaganda war intended to destroy Israel the Jewish people. Click here for more information.
TIMES OF ISRAEL – Turkish President Recep Tayyip Erdogan on Tuesday urged Muslims to defend the Palestinian cause, striking a tough stance on Israel despite improved ties between the two nations.

"It is the common duty of all Muslims to embrace the Palestinian cause and protect Jerusalem," the president of the majority country told a parliamentary symposium on Jerusalem in Istanbul.

Safeguarding the Al-Aqsa Mosque should not be left to children armed with nothing but stones, he said, in a likely reference to Palestinian youths who sometimes hurl stones at Israeli security forces on the Temple Mount. The Jerusalem hilltop is the third-most sacred site to Muslims and the holiest to Jews, the location of the two biblical temples.
…It's really no surprise that Muslims want Jerusalem. But this isn't something to dismiss lightly, especially when you combine this with Erdogan's previous statements on Jerusalem and the fact that he's basically made himself Sultan of Turkey and is resurrecting the Antichrist Ottoman Empire in seven years from now!
Here's what Erdogan said about Jerusalem just last year:
"Unfortunately we Muslims lost our aim to head towards Jerusalem. The water of our eyes froze making us blind, and our hearts that was destined to beat for Jerusalem is now instead conditioned for rivalry being in a state of war with each other."
He also called on Turkish citizens to:
"raise their hands in supplication for this blessed night towards Allah to restore the Al-Aqsa Mosque [Jerusalem] to be re-owned by Muslims, and to remove the mist from their eyes, to see Jerusalem in their hands at every moment and at every opportunity".
In the speech yesterday Erdogan actually said that the only answer to peace is a [so-called] "Palestinian" state with its capital being East Jerusalem:
The only way for permanent peace in the Middle East is a free and independent Palestinian state with a capital in East Jerusalem.
And let me remind you that the chief of Muslim scholars, the religious leader of the Muslim Brotherhood himself, Sheikh Yusuf Qaradawi, sent a letter to Erdogan after the 'coup' attempt last July declaring him the SUPREME LEADER for the ENTIRE Muslim World. Some even suggest he's the coming Mahdi!
http://therightscoop.com/uh-oh-erdogan-calls-muslims-protect-jerusalem/