Following Trump's Backing Out Of Fox News Debate, Ted Cruz Challenges Trump to One-On-One Debate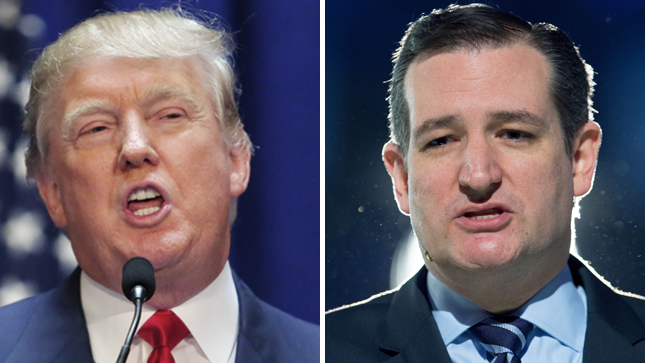 Republican presidential hopeful Ted Cruz on Tuesday challenged 2016 rival Donald Trump to a one-on-one debate after the real estate mogul announced he would skip the debate hosted by Fox News later this week.
Cruz made the challenge during an appearance on conservative radio host Mark Levin's show.
.@tedcruz: "If @realDonaldTrump is afraid of Megyn Kelly… let's have debate mano a mano before the Iowa caucus" @marklevinshow moderates!

— Catherine Frazier (@catblackfrazier) January 27, 2016
What just happened: Ted Cruz pounces on Trump news to call him CHICKEN and challenge him to a one-on-one debate on @marklevinshow.

— Teddy Schleifer (@teddyschleifer) January 27, 2016
The Texas senator offered two choices: he could debate Trump for 90 minutes without a moderator or the billionaire could select an individual to host the debate.
Cruz says he'll debate Trump with no moderators, one-on-one for 90 minutes

— Brian Phillips (@RealBPhil) January 27, 2016
Cruz says Trump can name his own moderator to a one on one debate

— Ben Jacobs (@Bencjacobs) January 27, 2016
"We could do it a number of ways, we could have you moderate it, Mark. We could have Sean Hannity moderate it. We could have Rush Limbaugh," Cruz said.
He continued, "But you know what? If he's afraid of Megyn Kelly, if he's afraid of you, and afraid of Hannity, and afraid of Rush, then we could do without any moderators whatsoever. I'm happy to go an hour-and-half mano a mano me and Donald with no moderators anytime before the Iowa caucuses."
Listen to the audio via BuzzFeed here.
A spokesperson for the Trump campaign did not immediately respond to a request for comment from TheBlaze.
http://www.theblaze.com/stories/2016/01/26/after-donald-trump-announced-hed-skip-fox-news-debate-ted-cruz-offered-him-this-challenge/