Netanyahu Wants $45 Billion in U.S. Military Aid by 2028
This is the real reason why Netanyahu kisses Obama's tuchus. With Jewish brains and determination, Israel should be self-sufficient.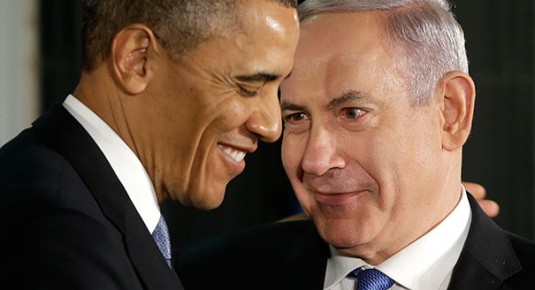 The request comes out to $4.1 billion a year starting from 2017, 10 percent more than the current military aid.
The Netanyahu administration is holding talks with American officials for a 13-year military program of $45 billion in aid, Defense News reported.
The current American military aid program for Israel amounts to $3.1 billion a year following an increase from the original $2.4 billion a year from 2007 to 2017.  The new request would grant Israel "$4.2 billion to $4.5 billion," according to a security source.
The military aid package does not include annual funding for anti-missile systems being developed by the United States and Israel.
A healthy part of American aid ends up in the hands of American defense contractors.
The preliminary talks for a new agreement for military aid also do not take into account aid that President Barack Obama may offer Israel to sugar-coat a deal an agreement with Iran over its nuclear program.
The request for a hike in aid reflects the arms race in the world and especially in the Middle East, where Arab countries have developed or bought sophisticated weapons that can threaten Israel.
Howard Kohr, chief executive officer of the American Israel Public Affairs Committee (AIPAC), "estimates that Israel may have to spend $160 billion on defense in the decade to come," according to Defense News.
Kohr told the House Appropriations subcommittee on foreign operations last month that Israeli defense spending coincides with "accelerated military investment fueled by the oil revenues of Israel's Arab neighbors."
In addition, economic sanctions have not stopped Iran from doubling its military spending and development of new weapons. The Islamic Republic also is preparing to receive the advanced S-300 anti-missile systems from Russia, which has indicated it will not be in a rush to deliver the systems to Iran.
[Jewish Press]