Swamp Update: 1 of Every 5 Government Employees Has a 6-Figure Salary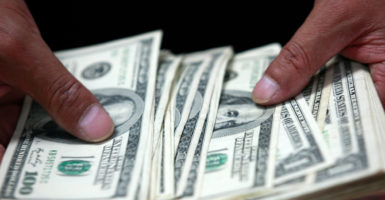 The U.S. government pays employees a total of about $1 million per minute, according to a watchdog group's report on the sprawling federal bureaucracy.
Looking at 78 large agencies, the nonprofit organization OpenTheBooks.com found that the average salary of a federal employee exceeds $100,000 and that roughly 1 in 5 of those on the government payroll has a six-figure salary.
Almost 30,000 rank-and-file government employees make over $190,823, more than any governor of the 50 states.
"Our oversight report shows the size, scope, and power of the administrative state," Adam Andrzejewski, Open the Books' CEO and founder, told The Daily Signal in a phone interview. "Two million federal bureaucrats have salaries, extraordinary perquisites, and lifetime pension benefits. This compensation package has never been seen in the private sector."
The median wage for all American workers was $44,148 a year for a 40-hour work week in the final quarter of 2016, according to the Bureau of Labor Statistics.
Andrzejewski said the Open the Books report, released Tuesday and including an interactive map of the 2 million federal bureaucrats by ZIP code, is meant to educate taxpayers on where their dollars are going.
So what about those perks?
When federal employees reach the third anniversary of their employment, he said, "they get eight and a half weeks' paid time off" plus "10 holidays, 13 sick days, and 20 vacation days."
"We estimate those perks alone cost the American taxpayer $22.6 billion a year," Andrzejewski said.
With the government paying the disclosed workforce $1 million per minute, according to the report, every eight-hour workday costs taxpayers more than $500 million.
A total of 406,960 employees make a six-figure income, amounting to roughly 1 in 5 employees. From 2010 through 2016, the number of federal employees making more than $200,000 increased by 165 percent.
"People are really hungry for these hard facts, they are interested in searching their little piece of the swamp," Andrzejewski told The Daily Signal.
http://dailysignal.com/2017/12/27/1-every-5-government-employees-6-figure-salary/