Trump is the Establishment Candidate: I Want to Bring Gang-of-Eight Rubio Into My Campaign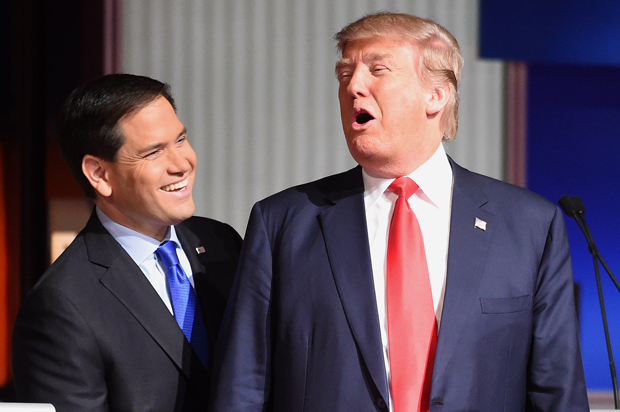 GOP front-runner Donald Trump says he'd like to bring Florida Sen. Marco Rubio into his campaign as part of his effort to unify the party.
Trump already has the support of two of his vanquished foes: New Jersey Gov. Chris Christie and retired neurosurgeon Ben Carson.
"Frankly, Marco I'd love to have involved," Trump said Thursday on Fox News Channel's "Hannity."
"This party has to unite," Trump said. "Then you're going to have the House and Senate."
Rubio dropped out of the race after losing his home state of Florida, but has yet to endorse anyone.
Trump also responded to criticism over comments he made earlier Thursday about North Carolina's law limiting transgendered people to using restrooms of the gender on their birth certificates. Commenting on backlash from businesses, other state governments and musicians to the law, Trump said people should be allowed to use the restroom of their choice.
"It's a small number, but we have to take care of everybody," he told Fox's Sean Hannity.
Since the law is causing the state to lose business and causing a negative reaction, the state should consider putting the issue on the back burner, Trump suggested.
"We have so many big issues to be thinking about," he said. "We have ISIS to worry about. We have bringing trade back. We have rebuilding our military. But I think this, I think that local communities and states should make the decision and I feel very strongly about that. The federal government should not be involved."
Trump also said he plans to announce a slate of 12 jurists he would want for the Supreme Court "very soon." He has been criticized by some on the right for not being a real conservative, and speculation about what kind of justices he would nominate have been an issue.
"I want people to understand that I want the values in terms of the Republican Party and the conservatives I want judges that you will be happy with," Trump said. "I'm going to actually name 10 or 12 judges up front and that will be a pool of which I will take I will take from that."
http://www.newsmax.com/Politics/donald-trump-want-bring-marco-rubio/2016/04/21/id/725211/